A LEGEND. A CELEBRATION.
A CENTURY AND BEYOND!
The 2022 IWWF World Water Ski Show Tournament will be part of a week long celebration commemorating the invention of the sport and will be a focal point of USA Water Ski & Wake Sports and the Foundation's celebration of the 100 years of the invention of water skiing.  We look forward to having skiers from around the world come back to their roots to join us in this celebration! Winter Haven is known as the Water Ski Capital of the World. Nowhere else in the sport has had more records broken or inspired the continued evolution of the sport.  Water Skiing may have been invented in 1922 by Ralph Samuelson on Lake Pepin in Minnesota but Dick Pope Sr.'s Cypress Gardens transformed it into a global sport and entertainment phenomenon.  No other destination on the planet has the history, inventions, world firsts, world records and visibility than Florida's first theme park, Cypress Gardens.  
View our locations historic timeline here: https://visitcentralflorida.org/waterski100/
Featuring all nine disciplines of the sports, the Museum showcases memorabilia from the 100-year-long history of the sport, including a pair of sport inventor Ralph Wilford Samuelson's original water skis.
A Daredevil & Two Boards tells the inspiring true story of the Minnesota small town man with big ideas who invented water skiing. On a hot July day in 1922, Lake Pepin fisherman Ralph Samuelson convinced his brother Ben to pull him up out of the deep blue waters of the mysterious Mississippi and into sports history. With two pine board strapped to his feet, Samuelson rose up to conquer the water as well as the skepticism of the local detractors who had been gathering at the river's edge for weeks to "watch him drown." War history author Gregor Ziemer tells the life story of the ordinary man whose unshakable faith enabled him to achieve the impossible – to walk on water.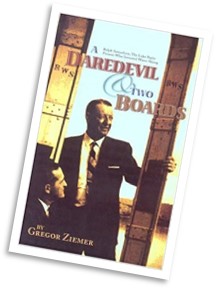 Water Tower Art the First Step to Welcome Water Ski's 100th Anniversary
If you're a resident of Winter Haven or just visiting, you may have noticed the new artwork on the city's Downtown Water Tower. So what's the story? What was once a beige water tower at the corner of Avenue B SW and Magnolia Avenue is now a beacon to the upcoming International Waterski and Wakeboard Federation's World Water Ski Show Tournament, to be held on Lake Silver in October 2022. The tournament will serve as the capstone to a year of events promoting Polk County during the sports centennial celebration.
Sporting a new logo celebrating Winter Haven as the Water Ski Capital of the World and marking the sport's 100th birthday, the painting of the tower is just one of many joint efforts between Visit Central Florida, the City of Winter Haven, and USA Water Ski and Wake Sports.